HAVE YOU EVER SEEN MORE RAILROAD TIES AT ONE LOCATION?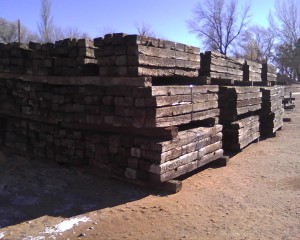 Yes, we have thousands upon thousands of railroad ties. Railroad ties are becoming extremely scarce; since many rail companies are changing to concrete and plastic ties.
We are forced to transport our ties from Colorado, Nebraska, and Minnesota. Future purchases, from more distant states, will dictate possible pricing adjustments. However, at this time, be believe we offer the highest quality tie; at the most competitive pricing!
We sell from our farm in Moriarty, NM, or we offer delivery to most locations in NM. Guaranteed…you'll like doing business with us! ­­
#1 Grade Railroad Ties
$25.00 Each
#2 Grade Railroad Ties
$20.00 Each